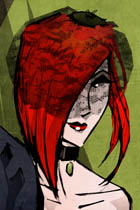 Brigitte first appears in 0108: Illecebrouss on the arm of Julius Lymos, wandering the streets of the 5th level of Clorencia City, seeking out The Gaslight, a dance hall and cabaret. Oliver escorts the pair to the club after eliminating a nearby spybot.
It's unknown how Brigitte and Julius are acquainted. From Julius's dialog, it does not seem that they've known each other long. Many fans theorize that Brigitte is a "lady of the evening".
--
Mari
In the Gentleman Caller, Brigitte appears under the name Mari, masquerading as an innocent young student at Clorencia University. She attempts to convince the Player Characters to give her a book on ancient Tsuankhotal Empire technology. What this means about her current involvement in the larger Clockworks storyline is as yet unknown.