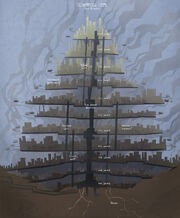 Clorencia City is the capital of the
Great Republic
of Roumion, and the greatest metropolis in the world. Clorencia has a population of 15.7 million people, with 1.6 million more living in the surrounding area.
Clorencia City is unique among all of the cities of Vheld in that it is made up of 11 levels. In 174 NDE construction on the second level began, allowing the royal family and government to move up from Old Clorencia. Soon, other wealthy citizens of the Clorencia Empire followed suit, and in time the Second level completely covered the first. The Third level was built in 33 NDE. The Fourth level was built soon after the New Dawn Revolution; and with the advent of ether technology, especially electromagnetic negativity, the city has reached ever upward.
Today, the 11 levels of the city reach from the mines and ruins of the First level, up through working class areas such as the Fifth level, to the modern and wealthy heights of the Eleventh level. It is the city's unique construction and shape that have earned it the nicknames "the Black Mountain" and "The Grey Cloud"
The different levels of the city essentially float by using the same technology that keeps airships in the air, Ether Modulated Electro-Magnetic Negativity. There are more braces and pillars in between each level, you can see some of them in the background of various neighborhood shots in the comic. Those are really more to keep the whole city together than to support the levels.
The Great Machine is at the center of Clorencia City, stretching up from through all 11 levels. Actually tens of thousands of devices, the Great Machine supplies power, plumbing, and communications throughout the city.
Neighborhoods of Clorencia City
Edit
There are quite a few neighborhoods in the capital. These are areas of the city that have acquired a unique "character" over the years and centuries. Some of these neighborhoods are:
Ad blocker interference detected!
Wikia is a free-to-use site that makes money from advertising. We have a modified experience for viewers using ad blockers

Wikia is not accessible if you've made further modifications. Remove the custom ad blocker rule(s) and the page will load as expected.