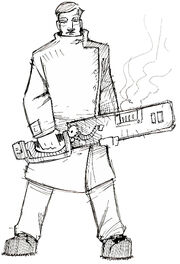 Head coach of the Fighting Revolutionaries at
Clorencia University
, Coach Rosstone is a sample character appearing in
The Gentleman Caller
scenario
Stephan is not technically a member of the Department of Unusual Biology, but he assists Dr. Ludgrove and co. on their hunts.
Stephan was born on the 5th level of Clorencia City, and joined the Republican Guard on his 16th birthday. After four years, he left the military to attend Clorencia University, where he was a star Basherdash player. Stephan stayed at the University as an assistant coach, and he is now head coach of the Clorencia University Fighting Revolutionaires.
Stephan joined Ludgrove's group accidentally, helping the professors wrangle a Vori Blood Ape that had escaped captivity in the University. He now travels with Ludgrove on a regular basis, helping keep the others alive.
Ad blocker interference detected!
Wikia is a free-to-use site that makes money from advertising. We have a modified experience for viewers using ad blockers

Wikia is not accessible if you've made further modifications. Remove the custom ad blocker rule(s) and the page will load as expected.