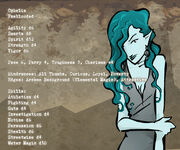 A changeling of Olivia Bainbridge, it was quickly discovered that Ophelia had awesome Elemental powers over water and ice, as long as she has her silver earring. Thorton is of the blood-loss-induced opinion that even though she is a mage (and therefore insane and evil,) she's also a healer (and therefore really quite nice.)
Recently rescued by the Private Constables, Ophelia has proven herself somewhere between "useful for freezing bad guys" to "vital to the continued survival of Thorton's well-being."
Ad blocker interference detected!
Wikia is a free-to-use site that makes money from advertising. We have a modified experience for viewers using ad blockers

Wikia is not accessible if you've made further modifications. Remove the custom ad blocker rule(s) and the page will load as expected.